Byron Bay Activities Guide - Take A Journey Through the Byron Arts Trail



A truly unique Byron experience, and situated only a short drive from Byron Palms Guesthouse, the
Byron Artist Trail will lead you on a path of discovery. Featuring 23 art galleries, studios and
showrooms that showcase some of the best art and artists that the rainbow region has to offer.

The vibrant alternative lifestyle, inspirational environment and culturally diverse community of
Byron have been drawing cards for creative types since the late 60's. The original indigenous name
for Byron Bay is 'Cavanbah' which means 'meeting place' in local Bundjalung language. Over the
recent decades, with this combination of attractive elements, artists from around the globe have
settled here to make Byron one of the densest concentrations of creativity in Australia.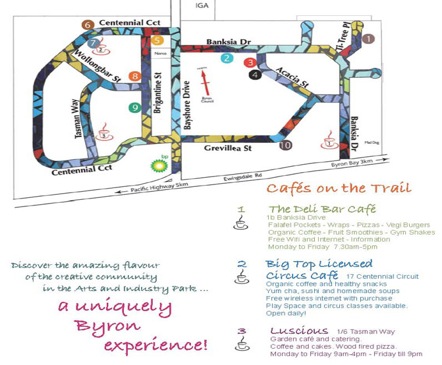 The Byron Arts Trail was created to link locals & visitors to the creative community in the Arts &
Industry Park. Providing a glimpse, or a whole lot more, into this unique environment and an
opportunity to participate in workshops and purchase one-off works of art directly from the source.
These include glass, paintings, sculpture, fashion design & jewellery. From here, artwork of an
international standard spreads around the planet into homes, corporate buildings, galleries and
private collections.

So on your next stay in Byron Bay be sure to give yourself some time to get off the beaten track and
explore the Byron Arts Trail. You may learn a new art form in a workshop, meet amazing artists, or
purchase that special something for yourself or a loved one. Either way it will be a unique and
individual experience full of surprises and possibilities. Something to take away from Byron that is
truly your own.
Byron Bay Activities