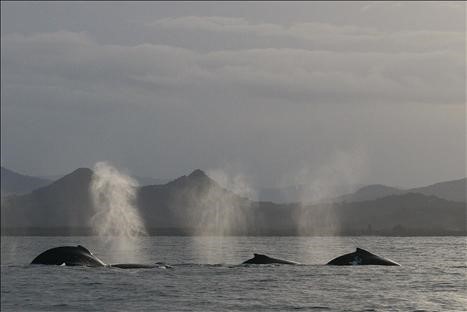 It's that time of year again… Whale season is happening in Byron Bay from May to November. Humpback Whales migrate every year from their feeding grounds near Antarctica to the warmer tropical waters up North where they mate and give birth.
Being the most easterly town in Australia, Byron could be considered front row seats for the show these enormous creatures put on as they migrate. Thanks to the cease of whaling, the whale population is returning and growing steadily by 10% a year, with currently up 18,000 Humpback Whales migrating along the East Coast of Australia.
If you're keen to check them out we have prepared a guide to how you can make the most of whale season in Byron bay.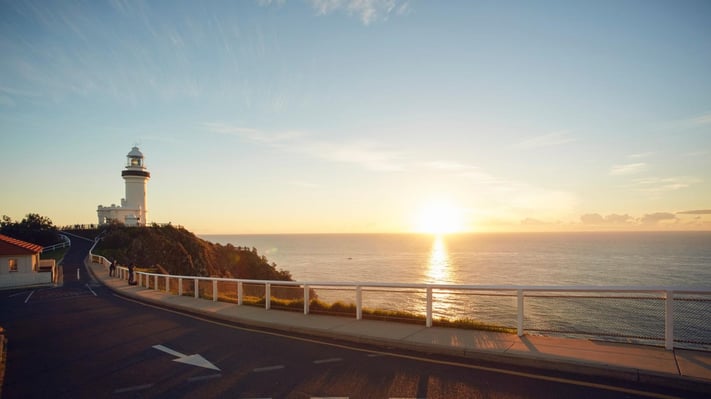 View Whales from the Lighthouse

We often have guests return from a lighthouse visit excited to share they spotted whales on their trip The panoramic views offered from Australia's most easterly point (Cape Byron and Lighthouse), make for the best place on shore to spot a pod of whales frolicking out at sea. While you are in the area of Cape Byron (3km from Byron Palms Guesthouse), it is a great opportunity to explore all the viewing points which you might see whales from. There is a walking circuit that will take you around past Captain Cook Lookout, The Pass beach featuring a wooden elevated lookout deck, along the Cliffside over to Wategos beach, up the stairs to the lighthouse, around a few other lookout points and then though the national park back down to Captain Cook Lookout.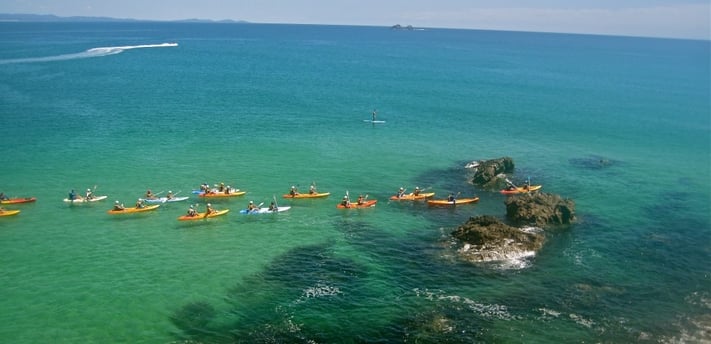 Go Sea Kayak Whale Watching Tours

Go Sea Kayak whale watching tours run at 9:30am and 2:00pm each day. If you don't see a whale, dolphin or turtle you can paddle again for FREE. 'Humpback Whales up to 15 metres in length can pass within metres of your kayak while you are out on the Bay. They are such inquisitive mammals that they will at times swim right underneath your kayak and frolic very close to the shoreline in Byron Bay' - Go Sea Kayak. They are owned and operated by local surf lifesavers, ensuring your experience is fun and very safe and
employ local aboriginal guides sharing stories of special places, animals, local history and culture. They
even provide you with wetsuits in cooler months to keep you warm.

Whale Watching Byron Bay

Whale Watching Byron Bay conduct daily whale watching tours between June and November. Their trips are small and personalised with a max of 12 customers per tour. Their guides will impart interesting facts about the migrating whales as well as Cape Byron Marine Park's many other sea creatures including dolphins, sea turtles and many different species of sea bird. Each of Whale
Watching Byron Bay's vessels is equipped with a hydrophone so you can listen to the Humpback whales amazing whale song. They also offer a whale guarantee ensuring that if you do not see a whale, you can return again.

Blue Bay Whale Watching Byron Bay

Enjoy an intimate encounter with the majestic Humpback Whales from the comfort of a 8.5m Cougar Cat "Bay Warrior" without getting wet. The tour departs from Brunswick Heads Boat harbour and takes no more than 12 customers to allow the friendly professional crew to give you the personalized service. The "Bay Warrior" is the only whale watching vessel in Byron Bay with a full size cabin, shelter from the weather and a toilet.